HORSE RESCUE
FAR HORSE RESCUE
Welcome to the Rescue Horse page
Please feel free to click on link see
All the Rescue Horses and our Trip Photos.
Please Note:
This Rescue is about a few very courageous horse lovers that went over and above the call of duty to Rescue Horses from an absolute death trap.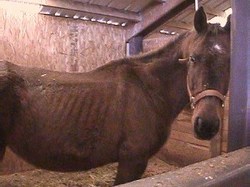 "Im...Dead Broke"
I See you coming near,
But I can't make you out...,
My Sight is way to blurry,
"No Water"... I guess there is a drout
"Yes , come a little closer",
Maybe I will be able to smell...
Oh yes .. Its you again,
The one who brought me to this hell...
You promised to love me,
You'd give me the best of care...
I haven't eaten for days,
And I'm loosing my matted hair...
"Now"... I'm much to weak to stand,
My weary legs just give out...
No need to poke and prod me,
"Yes " I can still hear you shout...,
This life is just to hard,
It's not like "you" said it would be...
You said there would be green pastures,
Maybe they should have come to see...
I'm sure they didn't know,
I'd live out my life this way...
They let me go with good intentions,
"Well...thats what I like to say"
"I dream"... of the day,
I'll be able to stand for just one more meal...
I'll frolic in the meadows,
And eat til I get my fill...
I'll run so fast down to the creek,
I'll kick , Jump and Splash...
When I'm woke from my dream,
"Ouch"... 'I can't stand another lash"...
Can't they see... 'I can't move",
No matter how hard I try...
I have no strength to go on,
"It's no secret"... We all know why...
This life I've been living is just so hard,
"I wonder... Will someone ever come for me?"...
And if they really do send Angels,
Will they see all that I use to be ?...
"Yes...I hear your awful voice again",
On your words ... I wish you'd choke...
We both know your right,
When you say ..."I'm"..."Dead Broke".
"They came and Rescued us"
"WE ARE BLESSED BY ANGELS"